Latest news from Darlington Golf Academy
Titleist Loyalty Reward 2020 
Titleist have launched their popular Annual Loyalty Reward Programme for this year in the Brand New Pro V1, Pro V1X and AVX golf ball range and we are running this promotion in-Store
OPTION 1⛳️
Choose the standard Play Number's 1234 or High Play Numbers 5678
Or Choose Special double digits Play Numbers 00 or 1 – 99
Personalise your balls with your name, initials, or company featured (Available in red or black ink)
Delivered within 4 weeks (Subject to availability)
OPTION 2⛳️
Non-Personalised standard play number
Choose standard play numbers in a limited edition sleeve and loyalty rewarded gift box
Delivered within 10 days (Subject to availability)
Which Titleist Ball Suits your Game?
Book in a Free Titleist Ball Fitting 
It's vital that you play the correct Titleist ball out on the course to get the best results.
On our Titleist Reward ball Fittings we hit a few Drivers, 7 Irons, Wedges with Pro V1X Pro V1 and AVX on Foresight GC2.
We look at the data on GC2 which features Launch Angle, Spin Rate, Club Speed, Ball Speed, Ball Carry and Total Distance. This then tells us which ball suits your game and gives you the best results.
We then finish with Chipping, Pitching and Putting so you get to feel each ball and how these respond into and on the putting green.
At the end of the Session you will be suited to either Pro V1, Pro V1X or AVX
It's well worth getting the Free Ball Fit before you order. (Your individual Fitting Report follows each ball fit session)
Titleist Loyalty Reward Price 2020
We do the New 2020 Titleist Pro V1, Pro V1X, and AVX at £42 a dozen which price matches (and often betters) the internet
3 dozen balls x £42 = £126 and you then receive a 4th dozen free + A Free GC2 Ball Fitting Session before you order
How to order 
It's a really simple process to order. Options available below
1) ⛳️ Call to arrange your Free Titleist Ball Fitting on Foresight GC2
2)  ☎️ 01325 355324 Option 2 and we'll take your order requirements
3) 💻 Email reply to this Newsletter with your order requirements
4) Call in and collect an order card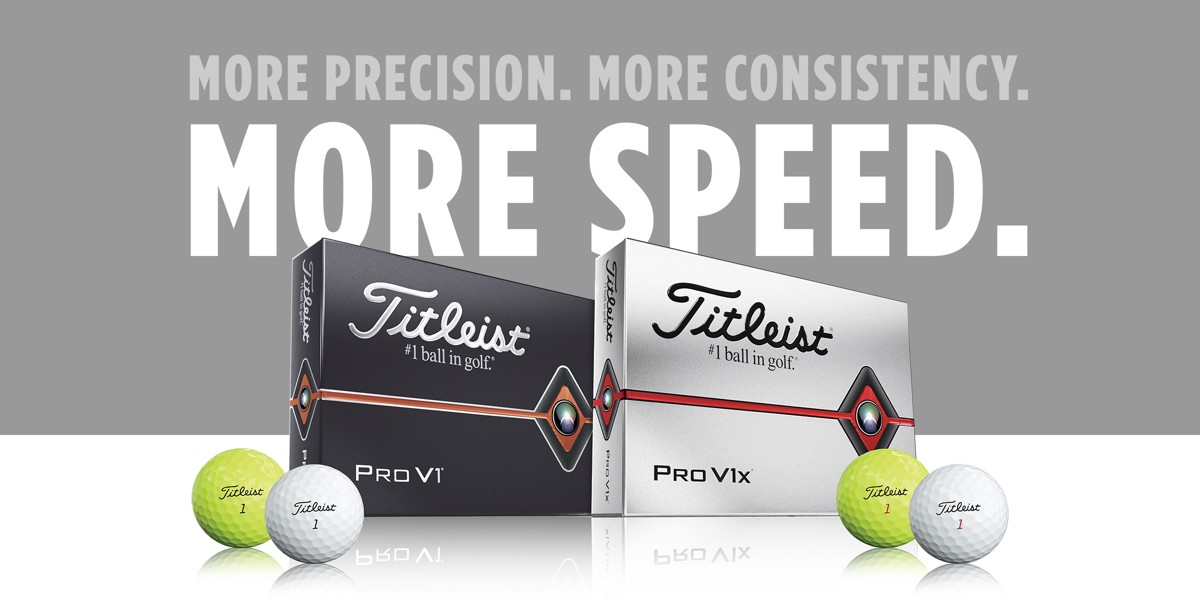 NEW PRO V1 AND PRO V1x
Faster from core to cover, the new Titleist Pro V1 and Pro V1x golf balls have been designed to leave the clubface with more ball speed and lower long game spin for more distance while providing the best short game control to help golfers shoot lower scores.

REMARKABLE DISTANCE WITH EXCEPTIONALLY SOFT FEEL
The Titleist® AVX™ golf ball utilizes breakthrough core, cover and aerodynamic technology. AVX is a premium performance golf ball for golfers who prioritize distance and extremely soft feel with a piercing, low ball flight. Available in white and high optic yellow, play numbers 1-4.
Player Benefits
Remarkable Distance and Penetrating Flight
Very Low Long Game and Iron Spin
Exceptionally Soft Feel
Premium Scoring Control
Regards To All James
James Cousins
P.G.A Professional
Darlington Golf Club
Darlington Golf Academy
Foresight GC2 Custom-Fit Centre
email james.cousins@darlington-gc.co.uk
☎️ 01324 355324 Opt 2
http://darlington-gc.co.uk
http://darlingtongolfacademy.co.uk
This mailshot has been sponsored by
SUPPORTING THE LOCAL COMMUNITY
Copyright © 2020 The Darlington Golf Club, All rights reserved.
You are receiving this email because you opted in when you registered with James CousinsOur mailing address is:

The Darlington Golf Club

Haughton Grange

Darlington, DL1 3JD

United Kingdom

Want to change how you receive these emails?
You can update your preferences or unsubscribe from this list